Vince Rugari takes a look through the Victory squad at their new coach's disposal, and makes his own predictions on what he needs and what Postecoglou might do
ANALYSIS
By Vince Rugari
Ange Postecoglou wanted a new challenge and, at Melbourne Victory, he has one.
Having already performed open-heart surgery on the Brisbane squad he inherited from Frank Farina in 2009, he faces the mammoth task of doing it all again at Australia's biggest club.
Sure, the fans and board are on his side and he has better resources than he did at the Roar, but his reputation is on the line.
Most of his work will go down in the off-season, because Victory badly need an overhaul.
Goal.com takes a glimpse at what he has to work with, what he has shown a liking for in the past and what he could potentially do with the new squad at his disposal.


As it happens, this department is already settled.
The trouble for Ange was that his hands were tied. With Tando Velaphi and Lawrence Thomas contracted and Ante Covic at the end of a one-year deal, the writing was on the wall - even if the latter was clearly Victory's best player and the rightful winner of their club champion award.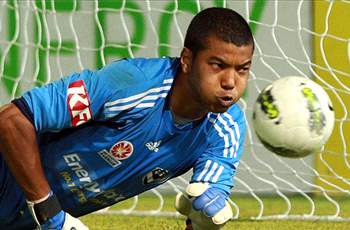 Postecoglou now has Velaphi and Thomas to pick from, and the former [pictured] will be his No.1.
At the Roar, Postecoglou had the luxury of former Victory goalkeeper Michael Theoklitos between the posts.
He has proven to be if not the best, then certainly in the top few shotstoppers in the league.
Brisbane might have been a dominant force of late, but it is easy to forget that, if Theoklitos did not save the day in the 2011 A-League grand final penalty shootout, it would be a completely different story.
Velaphi is good and promises a great deal, but he is prone to errors. The inexperienced Thomas is not the backup that Andrew Redmayne was to Theoklitos either.
This is not ideal, and while both will grow, it means Postecoglou's work with the Melbourne defence now becomes even more important from the outset.


Full-backs Shane Stefanutto and Ivan Franjic were hand-picked by Postecoglou to join the Roar and they certainly did not let him down.
They both scored goals and set them up, and were also sound defensively. Stefanutto's job in attack, at least, was very simple - run forward with the ball, wait for the right moment, and then cut back inside with a pass to a midfielder running from deep [quite often Mitch Nichols].
Franjic was a little more direct - that is why he scored three and assisted nine in the last two seasons, and why Stefanutto had zero and four.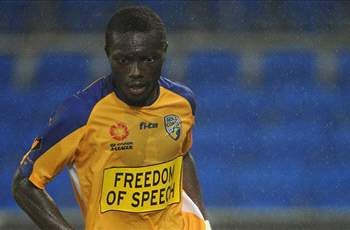 Newly signed Victory full-back Adama Traore [pictured] may struggle to fill Stefanutto's role.
The former Gold Coast United flyer is another player that Postecoglou has inherited [this was Jim Magilton's buy].
The 22-year-old is one of the better left-backs in the league but he can also be frustrating.
The Ivorian loves taking long-distance cracks at goal or making surging runs to the by-line, but quite often he does not get back in time and that leaves his side completely exposed.
Given he is a new signing on a visa spot, Postecoglou will have to like it or lump it.
He could turn Traore into a forward - and he did impress for Gold Coast in an advanced role on the left - but more likely he will make him fit into his system, probably by instructing his midfielders to cover for him or by adjusting his style if possible.
On the right, Matthew Foschini is polarizing figure for Victory fans, and the new coach might want another option there.
In the centre of defence, Adrian Leijer - the Victory captain - needs a partner. Do not be surprised if Postecoglou looks overseas for someone like Mohamed Adnan, who was good with the ball in the air and on the deck, and also provided something going forward from set pieces.
Good Australian centre-halves are scarce, and tend to get snapped up by overseas clubs as soon as they show form.
Postecoglou does not need two Messis at the back - he just needs players who are comfortable in possession and are able to knock it forward to whoever is screening them.


The late-season emergence of the mobile, exciting Jimmy Jeggo [pictured] was one of the few positives to come out of the 2011-12 season.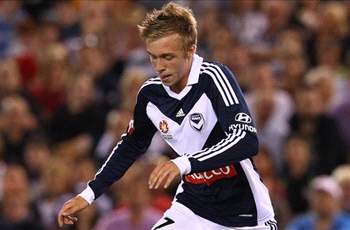 But even if Postecoglou takes a liking to him and hands him a start each week, who else plays in midfield?
It seems like Carlos Hernandez is gone, which is a travesty - he was a true game-breaker in the mould of Thomas Broich, albeit with a lower work rate.
Postecoglou seems to prefer his more creative players out wide - and especially on the opposite flank, which is where the German playmaker spent 90 per cent of his time.
The most important piece of the jigsaw here is the No.6, where Erik Paartalu excelled for the Roar.
He is a strong player with good positioning, composure, vision and above all else, he can stroke the ball around all day.
But again, his type do not grow on trees.
In fact, Postecoglou had to go hunting to Scotland for his Viking giant.
Put the wrong player here and the whole structure falls to pieces.
The best option on the Victory roster at the moment is Leigh Broxham, and he deserves the opportunity to at least audition for the role over the break and coming pre-season.
If Jeggo takes the other central midfield spot and Hernandez is gone, who gets the third? This is another position for which Postecoglou might have to shop.
Given the relative age and inexperience of Jeggo and Broxham, he will want an older, wiser, calmer head to compliment them, and one capable of playing both ways.



Melbourne Victory have an array of riches in the final third, and the starting spots almost pick themselves.
Harry Kewell will take one of the wide roles, probably on the left. Put another good pre-season into Marco Rojas and, if he gets back to his best, the right is his.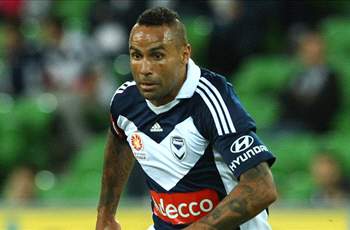 And how can you go past Archie Thompson [pictured] to sit in between them? He might be getting on and he is certainly not a manic Besart Berisha-type striker who will run all day and in all directions in search of a goal.
But he is crafty, times his runs well and a more-than capable finisher. If everything around him is working then he will feel more comfortable.
There is good depth here as well, with Isaka Cernak and Julius Davies probably set to fight for a bench spot.
Danny Allsopp might find himself surplus to requirements.
So Victory need, at the very least; a new partner for Adrian Leijer, another central midfielder and possibly another forward, given Carlos Hernandez is more than likely gone and someone will need to make up for lost goals.
Postecoglou can look overseas if he wants, or he can engage his scouts to find what he requires - but in reality, he only needs to look one hour south of his old home to find the missing pieces.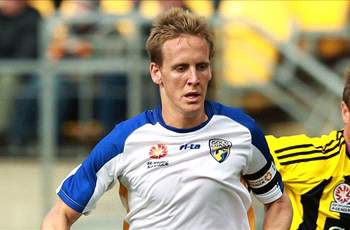 Victory were linked heavily to Michael Thwaite [pictured] a few months ago, but they should be banging down the former Gold Coast United captain's door now.
The word is he wants to stay in Queensland, but the lure of playing under Postecoglou - a coach who he professed his admiration for after the last-ever M1 Derby at the end of the regular season - might get him over the line.
Put him and Leijer together with Foschini and a tamed Traore, and all of a sudden things do not look so bad at the back.
Another former Gold Coast player who is available and wants to stay in Australia is Peter Jungschlager.
Easily one of United's best in their final season, the Dutchman is in his prime and prefers to play in an attacking midfield role, which is a gap Melbourne need to fill.
While he is no Hernandez, he is no mug either - he can score, pass, orchestrate, lead and, at a pinch, can play wide right.
With him in the side, that would put more attacking responsibility on Kewell, Rojas and Thompson.
But if Victory signed Ben Halloran, then the load is shared somewhat.
Undoubtably the hottest free-agent on the A-League market at the moment, every club is clamouring for the young gun's services, and Postecoglou is known to be an admirer.
Goal Australia now has its own

and

account, so for all the latest news and features on Australian football follow us by clicking on the above links.