The title races in England and Italy owe a great deal to the influence of 'plungers' – physical, ostensibly defensive players playing further up field.
In 2001 Brescia coach Carlo Mazzone had a selection problem: the glorious flowing locks of Andrea Pirlo, arguably the apex of mammalian hair – millennia of patchy fur building to one slo-mo image of Pirlo running his hand through his flaxen locks – or some old timer with a skanky ponytail.
Mazzone compromised. Roberto Baggio, the player of a generation, retained his playmaker spot. Pirlo moved significantly deeper than his usual No.10 role, to the base of midfield, as a deep distributor. The modern regista was born.
For the last decade, registas have afforded protection from midfielders alongside them. Rino Gattuso and Massimo Ambrosini acted as Pirlo's snarling bodyguards at both AC Milan and Italy. Javier Mascherano got into altercations so Xabi Alonso, with his lightly-bearded jawline, wouldn't have to. One reason no one has shoved a cleat through Paul Scholes' ginger head after one of his horror tackles is because Roy Keane very well might have rip the opposing team's players into tiny pieces. With his teeth.
Recently, managers have found a new way to use the deep orchestration of a regista and still keep the midfield toothy enough for slugfests. Now, heretofore defensive midfielders are playing further forward, like a plunger shoved into the opposition formation. One example is Pirlo's new shield, Arturo Vidal.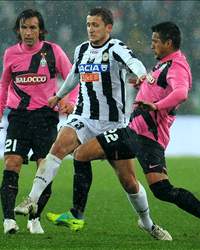 Pirlo moved on a free to Juventus last summer, Milan perhaps too eager to rebuild with a more energetic, diverse midfield. Antonio Conte has built around three central midfielders. Depending on how the defense is organized, it can end up a 4-3-3 or a 3-5-2, with Pirlo significantly deeper – we're talking 10 to 20 yards, depending on how the game is going – behind Claudio Marchisio and Vidal.
The Chilean plays the furthest forward. Up until this season, Vidal was a more reserved midfielder, still likely to move forward, as shown by 10 goals and 11 assists his last season at Bayer Leverkusen, but only because of his irrepressible engine rather than starting positions. Marcelo Bielsa frequently put him in defense for the Chile national team.
"Arturo's signing was very important," Conte said during a Juventus Member video chat. "He was the signing who pushed me to try new ideas. Taking out one of Marchisio, Pirlo and Vidal would have been too much. We then worked on different tactics and were immediately aware of the quality and intensity that Arturo brings to us."
That intensity has resulted in 5.4 tackles per game, for 174 total, which leads Serie A. In April,
La Gazzetta dello Sport
revealed that the 24-year-old also led the league in interceptions. His 101 at the time bested the combined total of Roma's three highest interceptors: Daniele De Rossi's 37, Fernando Gago on 31 and Miralem Pjanic's 28.
Interestingly, despite moving further forward, Vidal's offensive numbers are down. He's scored seven and assisted four with only three games left in the season (including the Coppa Italia final against Napoli). That shouldn't detract from a hugely impressive debut Serie A season, which even prompted enquiries – quickly shot down by Juve director Giuseppe Marotta – from Real Madrid, which has used defender Pepe as a 'plunger' against Barcelona in the past.
Vidal, too, quickly pointed out that he's happy in Turin. Alongside the graft of Marchisio and vision of Pirlo, he told
Gazzetta
, "We are the strongest midfield in Italy."
That's probably true. Still, I wouldn't go yelling about it around Kevin-Prince Boateng, Vidal's counterpart on Milan. The tattooed German-Ghanaian calls himself "the Ghetto Boy" and has recently opened up in interviews about growing up in the tough areas of Berlin.
The half-brother of Bayern Munich defender Jerome Boateng had a middling career in Germany and England, bouncing to Totthenham, Borussia Dortmund and Portsmouth. In 2010, his career took off. Boateng had played for Germany's youth teams, but represented Ghana in the World Cup. He parlayed a series of powerful, driving displays in South Africa into a move to Milan and quickly retired internationally, a full 18 months after his debut. He's 25. But once in Italy, and with the help of Massimiliano Allegri, Boateng exploited the chance to become one of the most dynamic proponents of the new plunger position.
"I feel like a modern trequartista," Boateng told
Il Corriere dello Sport
. "In the past, if guys of small stature with great technique and speed played this position, they didn't participate in the defensive side of the game. Now there are other priorities that come with it, like strength and power."
He certainly offers those two attributes. Boateng has added a refined touch as well. A curled assist for Sulley Muntari's opener against Atalanta was his fourth in 20 starts between Serie A and the Champions League. He also has eight goals, including two strike-of-the-season contenders against Barcelona and a hat trick as a substitute against Lecce early in the season.
"I liked Rivaldo, because I've always thought I have a similar playing style to him," Boateng told
UEFA.com
. He doesn't. At all. But Milan has quickly become dependent on Boateng's unique skillset, built around athleticism, drive and power.
In Serie A play, Milan has collected 36 points from 19 games, or 1.89 points per game, when Boateng is missing. (He was suspended several games early in the season and has since suffered niggling injuries, which his model girlfriend, Melissa Satta blames on the throes of romance: "We have sex seven to 10 times a week.") With Boateng in the squad, Milan has 38 points from 17 games, or 2.24 points per match.
If the moonwalking Michael Jackson fan had avoided injury and suspension, he may have reached his stated goal of 15 goals this season, and Milan likely wouldn't trail Juventus by a point with two games remaining.
There's an even tighter title race in England, where the Manchester clubs only have the crack of goal differential between them.
In the derby, which gave City a sliver of an advantage with two games to go, Yaya Toure was probably the man of the match. He started as the deepest midfielder, alongside Gareth Barry, who is to registas what white males are to dancing. But with a one-goal lead in the second half, Roberto Mancini pushed Toure forward into a plunging role with Nigel De Jong entering as a substitute. The Ivorian used his 6-foot-3, 200 pound frame and intimidating physicality to disrupt the passing of midfield tandem of Scholes and Michael Carrick. Within 10 minutes, Sir Alex Ferguson withdrew Scholes for the more direct Antonio Valencia.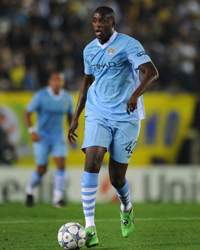 United didn't put a shot on target.
Last season, before Sergio Aguero commanded much of the space between the lines, Toure featured frequently as a plunger, with Barry and De Jong behind. The stodgy, suffocating midfield stabilized the perennially underachieving side. City conceded a league-low 33 goals (tied with Chelsea) and won the FA Cup, with Toure scoring one of his 13 goals in the semifinal against Man United.
The 28-year-old plays deeper this season, though his leggy, bulldozing runs have still resulted in four goals and five assists in 30 Premier League games. Of course, Mancini doesn't play Toure anywhere near as deep as Josep Guardiola did in the 2009 Champions League final, when the Ivorian lined up in central defense against – who else? – Manchester United.
(Incidentally, Toure retired internationally as well, suggesting this sort of player struggles when overworked.)
Toure had lost his starting spot to Sergio Busquets by that CL final win, and the next year he moved to City for, reportedly, 24 million pounds and a 220,000 pound weekly salary. Any qualms about the money involved were quickly bowled over by Toure's galloping, rangy performances.
Besides, one gladly shells over real money for a qualified plumber to fix a bathroom leak. Mancini saw before most the value in someone who can caulk the trickle of possession.
Follow ZAC LEE RIGG on

or shoot him an email.