With the Blaugrana facing an uphill battle in their hunt for a second successive Champions League final appearance, Goal.com looks at Guardiola's first-XI options
ANALYSIS
By
Adrian Boullosa
On Tuesday night, Barcelona will encounter one of their most important games of the season when they take on Chelsea in the second leg of the Champions League semi-finals. The Blaugrana need a two-goal win at Camp Nou to overturn the 1-0 deficit inflicted by Didier Drogba at Stamford Bridge last Wednesday.
As always, coach Pep Guardiola must devise a magic formula in order to secure passage to the Champions League final and, in the process, make amends for the weekend Clasico defeat to Real Madrid.
It will not be an easy task for the Barca trainer. In the first leg in London, the Catalans failed to find their usual rhythm and ran into a Chelsea brick wall. Now, Guardiola must not only consider tinkering with his starting line-up to find a balanced XI to avoid falling into the same trap set by Roberto Di Matteo, but he must instil a different attitude into his players.
Below,
Goal.com
analyses Guardiola's key conundrums.
THREE OR FOUR-MAN BACK LINE?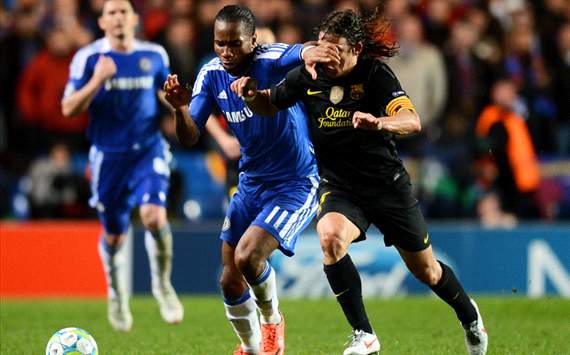 Barcelona's tendency to play with a back three in big matches is nothing new. Guardiola has on many occasions utilised this set-up first introduced by Johan Cruyff's 'Dream Team' and it has become a hallmark of this current Blaugrana side.
Barca must go on the attack at Camp Nou against a Chelsea side who have made no secret of their intention to put every man behind the ball and capitalise on their opponents' mistakes. And Guardiola will have to make sure his charges do not commit the same errors they made at the Bridge. The need to score does not mean the Blaugrana must go all-out in attack. A fundamental balance in defence is required to prevent another Chelsea sucker-punch on the counter, which could be fatal if the Blues have an away goal.
As such, it is vital for Guardiola to settle into the game with a proven and experienced back four consisting of Dani Alves, Gerard Pique, Javier Mascherano and Carles Puyol, and adapt to a 3-4-3 if required at various stages of the clash.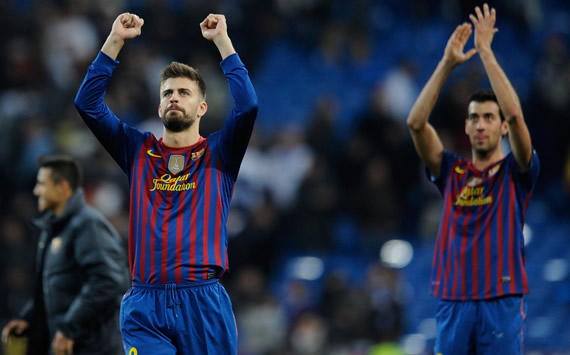 Gerard Pique's omission in the first leg clash at Stamford Bridge and in the Clasico has undoubtedly been one of the most controversial decisions of Guardiola's four-year reign. It's even more perplexing considering the inclusion of the Spanish international does not conflict with the selection of Javier Mascherano, who has become an untouchable figure in defence recently.
If there are no personal or professional clashes on the pitch between the two defenders to justify Pep's decision to relegate Pique to the bench, the second leg against Chelsea is the perfect opportunity for the coach to reinstate the Spaniard, and bolster Barca's rearguard to nullify Chelsea's physical threat.
Pique's presence in the starting XI will offer a consistency to a Blaugrana side who are heavily handicapped in the air, and that shortcoming can be decisive when it comes to set pieces.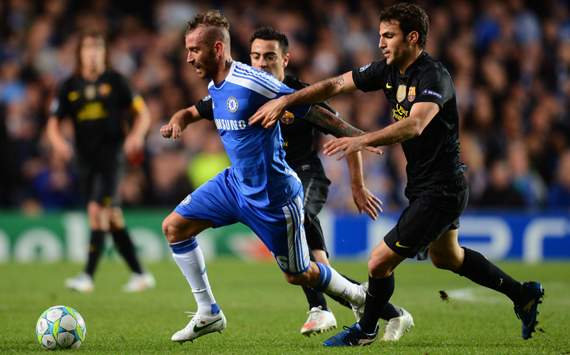 The three key men in the heart and backbone of this Barcelona side - Xavi, Andres Iniesta and Sergio Busquets - are critical to the team's chances of advancing to the final. The trio have always proven to be reliable, but they must be more decisive this time around in a confrontation with the likes of Ramires and John Obi Mikel, both of whom will look to stifle Barca's creativity.
As such, the Blaugrana midfielders must stick to their task at hand: Xavi will be the orchestrator and playmaker, Busquets must commit himself defensively and balance out the side, while Iniesta must provide the answers when his team-mates come unstuck. San Andres will be deployed further up the field, and he will have his sights set on Petr Cech's goal as he looks to repeat his 2009 heroics.
CESC AT STAMFORD BRIDGE



6.5

Should have scored after 16 minutes when Cech's parry went straight to him but made poor contact. Almost gave Barca the lead shortly before half-time as he chipped a shot over Cech, but saw Cole clear off the line. Put Alexis through with a delightful chip in the second half but the Chilean inexplicably fired wide. Was replaced by Thiago late on.
There is no question that Cesc Fabregas failed to shine at Stamford Bridge in his return to London and performed well below his high standards. However, his statistics with Barca this season prove that he is a vital component in the team's attack and the Blaugrana are almost always a better side when he's on the pitch.
Cesc has a telepathic understanding with Messi on the field and he provides an extra dimension to the team's attack, often with excellent results. The former Arsenal man is also Barca's joint second highest scorer so far this season with 15 goals in all competitions.
In what will be a key game for Barca at Camp Nou, Fabregas' presence is essential and he can cause more damage if he plays in an advanced position up front.
EXPERIENCE OR YOUTH IN ATTACK?

Lionel Messi and Alexis Sanchez have been Barca's most lethal weapons in attack this season. Both men have demonstrated their ability to cause havoc in the opposition goal and the form they are in will be pivotal to determine the balance of the game. It is a match that will be decided by the finer details.
Messi is the leading scorer in the Champions League this season with 14 goals from just 10 games. Although the Argentine was far from his best in his last two outings, he has always demonstrated in the past that he can rise to the challenge in times of desperation. Alexis, on the other hand, has not featured as prominently, but his progress throughout this campaign suggests that he can decide a game with his pace and when cutting in from the wings.
The emerging young attackers should not be called upon in such a significant match. Issac Cuenca and Cristian Tello have amply shown that they can be useful alternatives when the key players are being rested, but the youth products, who until recently were still playing in the Segunda B (third tier) should not be thrown into a baptism of fire.
MESSI & ALEXIS | The numbers this season
| | | |
| --- | --- | --- |
| | Barca's front two against Chelsea at Stamford Bridge in semi final first leg | |
| Lionel Messi | Player | Alexis Sanchez |
| 62 | Official goals in 2011-12 | 14 |
| 14 | Champions League goals in 2011-12 | 2 |
THE TEAM BARCA SHOULD PICK AGAINST CHELSEA

GOALKEEPER

Víctor Valdes
| | | | |
| --- | --- | --- | --- |
| RIGHT-BACK | CENTRE-BACK | CENTRE-BACK | LEFT-BACK |
| Dani Alves | Gerard Pique | Javier Mascherano | Carles Puyol |
| | | |
| --- | --- | --- |
| MIDFIELDER | MIDFIELDER | MIDFIELDER |
| Andres Iniesta | Sergio Busquets | Xavi |
| | | |
| --- | --- | --- |
| RIGHT FORWARD | CENTRE FORWARD | LEFT FORWARD |
| Alexis Sanchez | Lionel Messi | Cesc Fabregas |
Follow Adrian Boullosa on