After the demise of Bangalore Mars footballer Venkatesh on 21st March, the KSFA has taken necessary action with regards to upgrading top-class medical facilities at the stadium...
The Karnataka State Football Association (KSFA) held a press conference in the half time interval during the I-League encounter between HAL Bangalore and Pune FC to launch the new and upgraded medical facilities at the Bangalore Football Stadium.
After the sad demise of Bangalore Mars footballer Venkatesh on 21st March due to a cardiac arrest, the sporting authority was criticized heavily for their lack of possessing even basic medical facilities like an ambulance.
In the wake of recent happening, KSFA President Mr. A.R Khaleel began the proceedings of the press conference emotionally by asking everybody gathered to pray for Venkatesh's soul.
"It was a tragic incident that took place with Venkatesh on 21st March and we completely sympathise with the boy's family. Now we look at the future. But football has to go on, and football will go on. We are very grateful to Shantinagar MLA Mr. NA Haris, who spoke with the boy's parents and arranged a meeting with us," the KSFA President said.
"A compensation of 5 lakh rupees has been paid to Venkatesh's family. Out of which 1 lakh comes from the MLA's fund. On the request of Mr. Dhanraj (Venkatesh's father) we paid him an extra compenation of 1 lakh rupees. So our association has paid him a total of 4 lakh rupees," he added.
"We have purchased an ambulance from 'Mandovi Motors' and it will be delivered to us by April 28th. It is equipped with state of the art facilities and life saving material. For all I-League matches, we have tied up with Sagar Hospital, Jayanagar and HOSMAT hospital. We all know HOSMAT hopital is merely 3 minutes away from the stadium.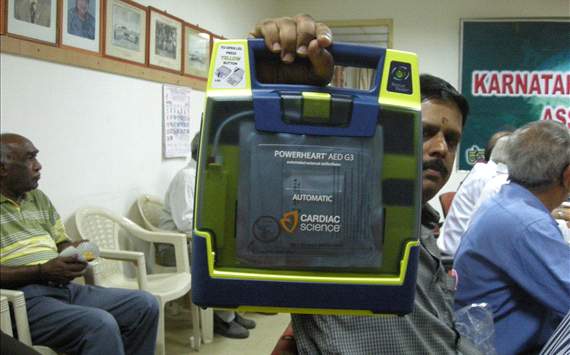 KSFA Official showing the AED - Automated External Defibrillator
"Dr. Syed Sohail Hasan (a general practioner) has been permanently employed by the KSFA for all the matches in the Bangalore Football Stadium. We have also purchased an AED - Automated External Defibrillator. This instrument is portable and can be handled even by a layman. It analyses the rhythm of the heart and takes a decision whether to deliver a shock or not," Mr. Khaleel said.
"Due to our commitments to sponsors Mahindra and Ozone, we shall be starting the local BDFA leagues on 10th May. Such a tragedy should not happen again and we will do our 100 percent to prevent it in the future," he concluded.
Dr. Jacob Samuel, a super specialist anesthetist from HOSMAT hospital (also on duty for the KSFA) explained to the gathered journalists about the AED instrument.
"We purchased it for rupees 95,000 and have paid an advance of 50,000 already. This is a portable device and is often found even in airports to handle passenger emergencies. It can be handled by even a layman and is very useful in sports stadiums for football and hockey. It has a USB port which will give the doctors an entire rescue report, including the victim's ECG report. It needs no charging, as it comes with batteries and is ready to use anytime," Dr. Jacob Samuel said.
How do you stay up to date with football when on the move? With http://m.goal.com – your best source for mobile coverage of the beautiful game.