Goal.com's Sarthak Dubey feels Pepsi's latest move to stir a few heads ("change the game") by linking a cricket format with football was just another profit making venture...
In a recent advertisement starring filmstar Ranbir Kapoor and a 'streetwise' football fan, we saw the boy helping the Bollywood star get hold of a Pepsi can by heading a football on the machine. Well, he could have got the Pepsi bottle by banging his head onto the fridge as well. Why a football? We thought Pepsi's T20 football campaign would instigate a nationwide search for India's next soccer superstar. Pepsi's latest move to stir a few heads (to be more precise, "change the game") by linking a cricket format with football was just another profit making venture.
Football in India is desperate for some help from the corporate sector. Their financial aid along with better marketing strategies can really make the beautiful game spring to life in India. But surely our private sector companies can do better than Pepsi T20 football!
The first qualifying round kicked off in my college in Chennai and I thought that I had a chance to witness the start of a new exciting era of football in India. I had seen Pepsi registration counters springing up around many Chennai colleges and intensive advertising by Pepsi with Ranbir Kapoor holding a bottle of Pepsi in one hand and a football in the other. Pepsi's team of advertisers had managed to create a buzz around town like no other.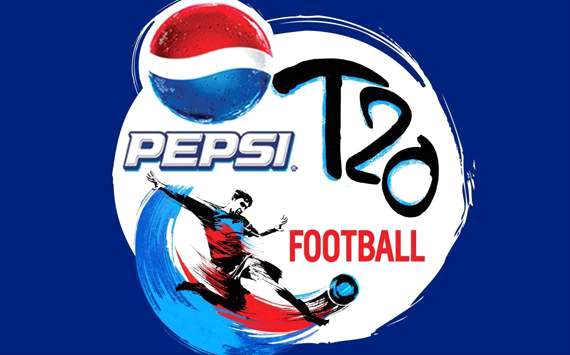 Just another meaningless advertising campaign...
Our college's football ground was taken over by Pepsi 'officials' to make their own 'match arena' where registered five-a-side teams would take part in the ultimate face off. On the day of the mega event, a friend of mine named Shivam had already reached the ground. Like anybody else, the pre-event build up had got him excited too. He sent a text urging me to come quick.
The minute I reached the ground, I knew this was nothing but another move to sell more Pepsi bottles. As the teams got into the 'arena' to play, the DJ waiting on the side kicked off his music. Music while playing football? I knew how serious this was. There was free Pepsi for everyone inside the 'match arena'.
The scoreboard looked something like this - Team 'A' : 10 points; Team 'B' : 6 points. Yes, this was football, not basketball. For each goal scored, the team was awarded 2 'points'. Quite literally, Pepsi had changed the game.
One positive that I took out from the chaotic scenes in front of me was that an all-girls team had taken to the field and reached the college quarterfinal stage. The sight of girls playing the game with enthusiasm really brought a smile on everybody's faces. They screamed at each other's mistakes (which showed that they really cared) and played with unity.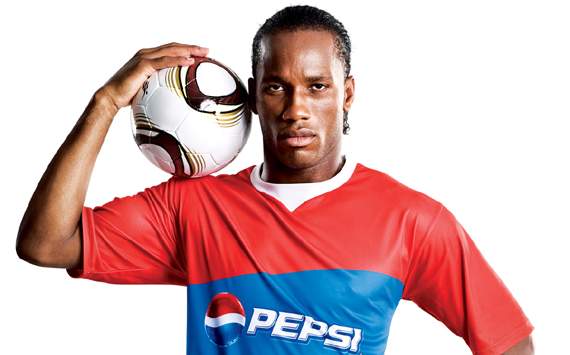 Has Drogba ever heard of Indian football?
The 'T20 format' as such was shambolic. A game of two halves, 10 minutes each. Football is only 90 minutes, how can you shorten it even more? There was absolutely no time on the ball for the players. All I could see was aimless swinging of the feet and the ball flying randomly in different places.
After all the qualifying matches, the top teams from Chennai were chosen for the ultimate challenge of beating each other to reach the mega finals in Delhi. And this final round took place inside a mall. Yes, a mall. The spectators had a fun time watching 10 men kicking the ball around in the cage meaninglessly. There were professional free-style artists who enthralled the crowd with their tricks and foreign flavour.
We have also seen an advertisement combining Indian cricketers Dhoni, Kohli, Harbhajan Singh and Suresh Raina with Chelsea stars Didier Drogba, Fernando Torres and Frank Lampard. It's quite obvious that the players shot for the advertisement in separate locations. And how can you call Frank Lampard a 'penalty king'? That makes him sound more like a hockey player.
Now Didier Drogba is ending this shambolic football campaign with a hero's welcome in Delhi, to 'coach' the winners of Pepsi T20 football and play a fun game of cricket with Virat Kohli and Ranbir Kapoor. Is this what we expected ? Pepsi's arch rivals Coca Cola have probably done a better job in promoting the game in our country. They sponsor the game at the U-14 level to this date and we see the Coca Cola Mir Iqbal Hussain Trophy take place every year to discover talent at the national stage.
If Pepsi had spent the many crores and crores of rupees in sponsoring our national team, or built proper football academies to nurture new talent across the nation, we would have had a better impact. We do understand that it's a business at the end of the day and that they need to sell their product to a new consumer. But football addicts have only been repulsive to their "Mauke pe Chauka" ad.
During the ICC Cricket World Cup in 2011, we saw Pepsi use the same tagline "change the game" in promoting Dhoni's helicopter shot, Pietersen's "palti hit", Harbhajan's 'doosra' and Dilshan's "pallu scoop". Seeing the tide shift from a disastrous post-World Cup campaign for Indian cricket, Pepsi decided to retain the tagline with a new sport.
Football was just an excuse and there was no promotion taking place. Who are they fooling?
Follow Sarthak Dubey on

How do you stay up to date with football when on the move? With http://m.goal.com – your best source for mobile coverage of the beautiful game.