Our countdown of the best players of 2010-11 continues with the Argentine winger, who looked very much at home in his first season with Real Madrid
Welcome to the Goal.com 50! In this special series, Goal.com editors worldwide vote for the top 50 players of 2010-11. We count down to the announcement of the winner on August 21 with profiles of each and every player who made it into the top 50...


When Angel Di Maria became Real Madrid's most expensive signing of summer of 2010, eyebrows were raised. True, he had been one of the star players in Benfica's title-winning 2009-10 campaign in Portugal's Primeira Liga, was an established Argentina international and was hailed by Diego Maradona as "devastating" and "fantastic", but paying €25 million for someone just 22 and yet to play in a major European league sparked concerns.
Those doubts were reinforced in South Africa when, like the rest of the Argentina side, Di Maria failed to sparkle in the World Cup finals. His performance was flat and did not inflate hopes of instant success at the Santiago Bernabeu. But then again, not every great adventure has to commence on a positive note and not every adventure that begins negatively ends in deflation.
"He is a spectacular player, who is growing day by day. He faces defenders continually and that's what people pay for today in the world."



- Diego Maradona

Di Maria's certainly didn't, as right from the onset he became a star performer for the nine-time European champions. Defined by Jose Mourinho as "the typical player from Rosario" and universally labeled as a left winger, Di Maria featured on both flanks, complementing Madrid's obsession Cristiano Ronaldo. While everyone mooned over Ronaldo's abs, his goals and perennial duel with Barcelona's Lionel Messi, Di Maria carried on with his task quietly, effectively, intelligently and with assurance.
MOMENT OF THE SEASON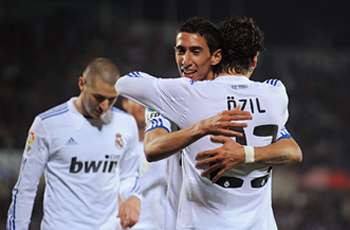 CHAMPIONS LEAGUE FIRST KNOCKOUT ROUND
REAL MADRID 3-0 LYON
Helped the the capital outfit overcome a strong Lyon side with a typical hard-working, effective but classy performance. Scored the third goal for Mourinho's side with a lovely lob over Hugo Lloris.
The 23-year-old started 29 matches in the Primera Division and finished with six goals and 11 assists - second to Mesut Ozil in Madrid. His ability to link up with the forwards, provide attacking support to Ronaldo and Ozil as well as drop back to help Sami Khedira and Xabi Alonso in central midfield all began to draw the attention as the season progressed, and so did his darting runs, dribbles, long passes and determination not to get bullied despite his fragile build.
Then there was his commitment to do everything his coach asked him to - while Pedro Leon reportedly did not heed Mourinho's command against Levante in September and was promptly dropped from the team, Di Maria played even as a left-back against Racing Santander in October. He directly created two of the six goals that Madrid netted that evening in their 6-1 victory and was an outstanding figure.
Any notion that Di Maria was successful only in Spain is dismissed by his astounding displays in the Champions League. In what was Madrid's most successful campaign in Europe since the 2002-03 campaign as they reached the semi-finals, the former Rosario Central star ended up with three goals and as many assists in 10 appearances, one of those strikes coming in their 3-0 last 16, second-leg victory over Olympique Lyonnais.
"While everyone mooned over Ronaldo, his goals and perennial duel with Barcelona's Lionel Messi, Di Maria carried on with his task quietly, effectively, intelligently and with assurance."
This is not to say that Di Maria's season was perfect - he was the worst player on the pitch in their 5-0 defeat at Camp Nou and in the five Clasicos mustered an average Goal.com player rating of under 6. Yet in a campaign in which Madrid exhibited that despite being a team under construction, they can challenge Barcelona and other elite forces in Europe, Di Maria proved that one can succeed in the Spanish capital and capture the imagination of the fans without having Ronaldo written on the back of the shirt.
Download the Goal.com Mobile app, and the world of football will be at your fingertips and in your pocket!