The hottest tickets in town have almost been sold out for the game between Nigeria and Namibia at the U.J Esuene Stadium
Calabar is a nice little town where one road leads to everywhere. The serene cool city is interconnected and residents who have lived there long enough claim it is possible to know everyone in the city.
From the Margaret Ekpo International Airport when one arrives, to the U.J Esuene Stadium in the heart of town to the state library and museum, all are within walking distance of each other.
The city has since returned to its carnival atmosphere since the Super Eagles arrived to play their 2014 Fifa World Cup Brazil qualifying game against Namibia.
Merchants of national team totems have invaded the city since midweek. They hang along the Murtala Muhammed Way to sell fake Nigeria replica jerseys, hats, neck scarves and flags to passionate football fans.
The jerseys are sold for between 1500 and 2000 naira by the hawkers, mostly young men who came in from Lagos to cash in on the game's frenzy among locals.
Moradeyo Akinkunmi, a Computer Science student of the Polytechnic Ibadan told Goal.com that he expects more sales on the day of the game.
'People are buying our jerseys but we anticipate that the sales will grow on Sunday when the match nears,' he said.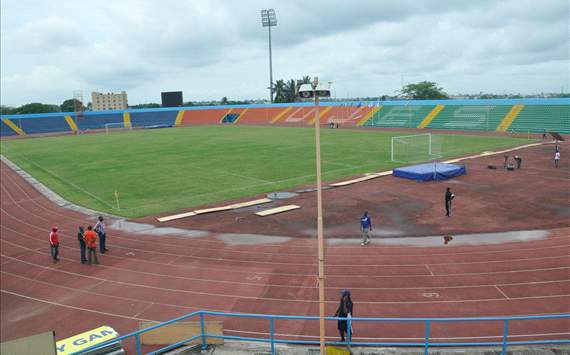 U.J Esuene Stadium | Expected to be packed to the rafters
But the hottest selling item ahead of the game is the match ticket that went on sale on Friday. Sold for between 500 and 2000 naira, the tickets are the most sought after items in the city at the moment.
The U.J Esuene Stadium that sits 12,000 is expected to be filled for the game between the Super Eagles and Brave Warriors.
'By 11am you will not find seats in the stadium anymore so we always advise people who buy tickets to come early,' a stadium official said. The match will only commence at 4pm.
Namibia coach Bernard Kaanjuka has said that the small, intimate size of the stadium will mean that the home fans will be heard louder by his players, something that the hosts would love.
'It's our home ground,' said Nigeria forward John Utaka. 'We will make sure we leave victorious.'
There's nothing the locals would love better than that.