The 39-year-old has become a household name this week following his display at Camp Nou, but it's not the first time that the Euro 2012 referee has made the headlines
PROFILE
By Stefan Coerts | Dutch Football Editor
If you had asked any random football fan on Tuesday morning whether they had heard of referee Bjorn Kuipers, the chances of an affirmative answer would have been very slim. Ask the same question again now and there's little doubt the name will ring a bell following his controversial performance in Barcelona's 3-1 Champions League win over AC Milan earlier this week.
There was little protest from the Milan players when Kuipers awarded the Catalans a spot-kick after a foul from Luca Antonini on Lionel Messi early in the game. However, the Rossoneri were far from impressed when the Dutch official granted Barcelona a second penalty in the 41st minute after Alessandro Nesta had pulled Sergio Busquets' shirt in the lead up to a corner kick.
Much has since been said about the 39-year-old referee's decision and whether he was right or wrong. Very little has been written about the Dutchman himself, though, and about his background. So who is Kuipers and how did he make it into the Champions League?
The son of a referee, Kuipers was often seen on the sidelines of football pitches during his childhood. Unlike his father, the Oldenzaal-born ref initially preferred another role in the sport as he started playing football at local amateur side Quick '20. Only when he lost interest in a playing career did Kuipers eventually follow in the footsteps of his father and pursue a refereeing position.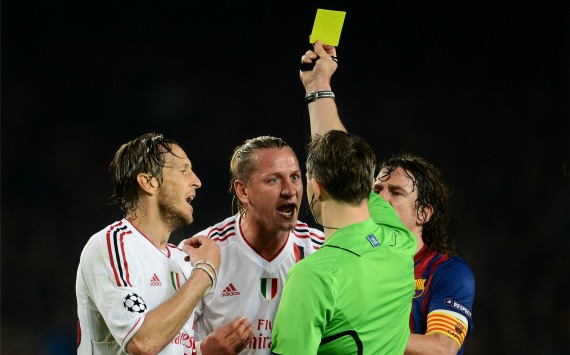 Dutch Disbelief | Mexes expresses his dismay as Kuipers pulls out the yellow card
Kuipers' life wasn't all about football as he enrolled into Radboud University Nijmegen to study business administration, a decision he would not regret. Today, Kuipers is also the co-owner of a number of supermarkets, as well as a barber shop in his home town Oldenzaal.
Nevertheless, his main passion remains football, and he has become one of the most highly-rated referees in the Netherlands. His rise to prominence in his native country didn't go unnoticed by Uefa as the continent's football governing body promoted the Dutchman to the highest European level in January 2009.
"It's fantastic to see that Uefa rates Bjorn so highly. They appoint referees based on their performances and quality. It says a lot that they picked Bjorn for this game. Dutch referees such as Bjorn are slowly trained and prepared to ref at the highest level. They're following an intensive programme where they learn how to deal with mistakes. That's how Bjorn has reached the highest level. It might sound simple, but only a few are up for it," KNVB referee coordinator Dick van Egmond beamed after Kuipers was awarded the match at Camp Nou.
His status in the Eredivisie earned Kuipers the right to referee the league's top games, but not everybody was as impressed as the Dutch Football Association (KNVB).
Kuipers failed to spot one of the most controversial incidents in Dutch football history in November 2010 when he was in charge of the Eredivisie clash between Ajax and PSV. After a brawl on the pitch, Luis Suarez bit opponent Otman Bakkal in his shoulder right in front of the man in charge, but Kuipers missed the flashpoint, much to the dismay of the PSV players.
He again angered the Eindhoven side six months later when he dismissed Orlando Engelaar for a seemingly harmless tackle in the match against Feyenoord. PSV went on to lose 3-1 after their midfielder's red card, thus effectively ending their title ambitions.
The referee's most recent domestic controversy took place in January 2012 in Feyenoord's 4-2 win over Ajax. Kuipers awarded the Rotterdam giants a spot-kick when John Guidetti went to ground after a challenge from Jan Vertonghen, although the Ajax defender didn't appear to touch his opponent. To make matters worse, Kuipers even allowed an Eredivisie match reporter in his dressing room at half-time to explain his decision live on television.
The fact that we [the match officials] have a good feeling about the match says it all. My phone has been ringing non-stop, and it's nothing but compliments



- Bjorn Kuipers




There has also been plenty of drama outside his native country, and Kuipers made the headlines for all the wrong reasons in Stuttgart's 1-1 Champions League draw against Barcelona in February 2010. Real Madrid coach Jose Mourinho was not best pleased with the Dutchman earlier this year when he felt Kuipers allowed the CSKA Moscow players too much liberty in the 1-1 Champions League last-16 draw.
Uefa has nonetheless consistently backed the 39-year-old throughout the years, with the decision to award him the Champions League quarter-final between Barcelona and Milan seen as the ultimate vote of confidence. Regardless of public opinion after his display at Camp Nou, Kuipers remains confident that he did a good job and he certainly seems to have plenty of admirers.
"The fact that we [the match officials] have a good feeling about the match says it all. My phone has been ringing non-stop, and it's nothing but compliments," he boasted on Wednesday.
Although Kuipers has received his fair share of criticism over the years, there's little doubt that he is a well respected and efficient referee. He is authoritative, always close to the action, and isn't easily intimidated by fans, footballers or coaches.
And we haven't seen the last of Kuipers yet this season, either. The 39-year-old is one of the 12 referees selected for this summer's European Championship in Poland and Ukraine.
Follow Stefan Coerts on