The two sides go head to head at the Olimpico tonight with the result weighing heavily on the race for third place, and for the good of the peninsula, the Azzurri must prevail
COMMENT
By Kris Voakes | Italian Football Editor
They dazzled the entire continent with their lightning counters, their fans belted out the Champions League anthem with pride and gusto, their adaptation to the big stage drew countless compliments. Now Napoli have to get back on the bike and ensure they get a second crack at Europe's top table.
Tonight's clash with Lazio at the Stadio Olimpico is little less than do or die for Walter Mazzarri's side, as they take on a club who want to emulate the Partenopei's tremendous run in the competition, but arguably have none of the fundamentals to do so.
The Azzurri's Champions League season didn't end too well, with a 4-1 defeat to Chelsea sending them packing with their tails between their legs, but they had already done more than enough to prove that they have something to offer on the big stage.
With four points taken off Manchester City, two wins over Villarreal and a superb 3-1 home triumph over their eventual conquerors, the club more than held their own in a competition they had last taken part in more than 20 years ago. They were a great advert for Italian football. In fact, over the last two seasons, an in-form Napoli has been the best sight in Calcio bar none.
So if anyone deserves to represent the peninsula in Europe next term it is the Naples side, right?
Well, Laziali will claim otherwise. Their team currently sit in third place, with a three-point gap separating them from Napoli. With Italy having lost one of its four Champions League spots, tonight's clash becomes a head-to-head battle which will go a long way to deciding who goes into the qualifying round in August and who is left to negotiate everyone's least favourite annoyance, the Europa League.
| | | | | | | | | | |
| --- | --- | --- | --- | --- | --- | --- | --- | --- | --- |
| | | P | W | D | L | F | A | GD | Pts |
| 3rd | Lazio | 30 | 15 | 6 | 9 | 44 | 37 | +7 | 51 |
| 4th | Napoli | 30 | 12 | 12 | 6 | 54 | 35 | +19 | 48 |
| 5th | Udinese | 30 | 13 | 9 | 8 | 40 | 28 | +12 | 48 |
| 6th | Roma | 30 | 14 | 5 | 11 | 47 | 37 | +10 | 47 |
| 7th | Inter | 30 | 13 | 5 | 12 | 43 | 42 | +1 | 44 |
When the Biancocelesti last made it to the Champions League, they did so with a great run from December onwards in the Calciopoli-hit 2006-07 season. Their campaign in Europe was far from distinguished though, picking up one victory – at home to Werder Bremen – in their six group games, to finish bottom of the pile.
More than that, there was no feeling that you were witnessing something special, as was provided by Napoli last season. The Olimpico remained half-empty for their home ties – Real Madrid apart – and while a small enclave within Rome will be able to recount the goings-on of September to December 2007, few will be able to argue that they left any lasting impression.
Napoli still have the power to do that, while Lazio just don't. And what's more, the Aquile's hammerings away to the likes of Siena, Palermo and Genoa of late have proven just how lightweight they really can be, shorn of any defensive ability and left to rely almost solely on the occasional attacking masterclasses of Hernanes and the goalscoring prowess of Miroslav Klose.
With the German out for potentially the remainder of the season, there are now great question marks as to the Roman side's ability to see their way to the finishing post ahead of Mazzarri's men. Edy Reja has twice tendered his resignation this term, and there are clearly issues off the pitch too, meaning that it will be a very unsettling summer for Lazio no matter where they finish in the standings.
They sit in third still partly due to Napoli's awful form since being knocked out of Europe. Right now, they have gone into a cocoon, but that doesn't take away from their potential to be of the very top quality. They need to put it together sooner rather than later to pip Lazio to the post.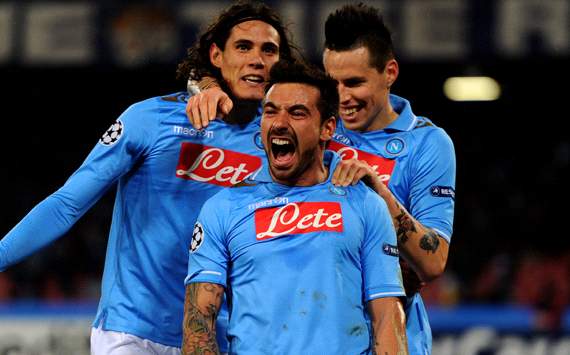 Cavani, Lavezzi & Hamsik | The kind of talents that Serie A can't afford to lose
Of course, there are other contenders still in the race for third place, with Roma and Udinese in with a shout, while Inter are within seven points and under new management. But at the moment it is Lazio and Napoli holding the cards, with tonight's match taking the spotlight.
It wouldn't be the end of the world if Lazio finished third, and may go some way to helping a grand old name find some stability on and off the pitch, but Napoli missing out could make a big dent in a real potential force.
Would they be able to hold on to the likes of Ezequiel Lavezzi, Edinson Cavani and Marek Hamsik without Champions League football? Would they then, in turn, be able to attract replacements with only the Europa League in which to dazzle? Surely, players like Lavezzi and Cavani need to stay in Italy to help boost the country's game.
The great rise from the ashes of a true powerhouse is meeting a crossroads, and tonight's game at the Olimpico could well decide which route they head down. Is it Europa League, loss of stars, and loss of momentum; or is it Champions League, a step up the ladder, and an affirmation that Napoli are becoming a force at home and abroad, with the San Paolo faithful behind them every step of the way?
No offence Lazio fans, but it's Napoli we need to have representing Italy in the Champions League next season.
Follow Kris Voakes on